Using Pet Manager, you can share your recommendation to feed TLC with two types of pet parents:
New Pet Parents
Formerly known as "Owners" in Litter Manager, New Pet Parents will be or have recently brought home a new pet.
New Pet Parents will receive email communications that link to your personalized web page at tlcpetfood.com, configured to display the TLC product and Autoship frequency you recommend based on breed.
New Pet Parents are added to litters.
After creating a litter, find the litter you wish to add a Pet Parent to.
Select an open space and click "Add Pet Parent"
The Add Pet Parent button will indicate the number of spaces remaining in the litter.

Pet Name (optional) – used to identify the pet they are or have brought home
First and Last Name (required) – used to identify the TLC account once created
Email Address (required) – each New Pet Parent requires at least one email address in order for them to receive TLC communications directing them to your personalized web page and in order to match them to their TLC account
Secondary Email Address (optional) – can be used to include a possible secondary email address that might be used to create a TLC account. Only the first email address will receive TLC communications but the secondary email address will be used to match the New Pet Parent to a TLC account if the email address is used to create an account first.
Phone (optional)- phone number used to contact your pet parent
Go Home Date – the date the New Pet Parent is expected to bring home their new pet
Notes (optional) – any additional information you want to add about the pet parents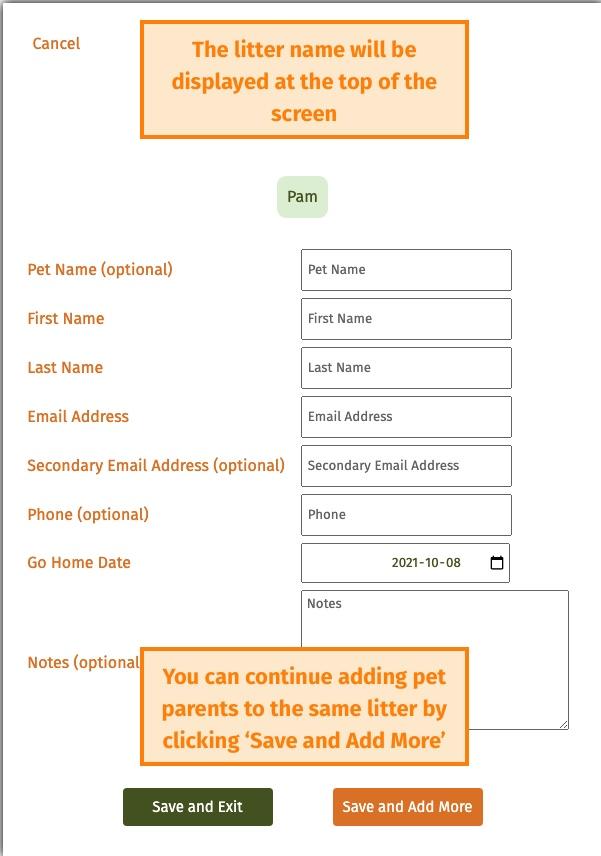 Contacts *NEW*
Contacts are any pet parent in your network. Contacts will receive email communications directing them to your personalized TLC web page displaying all TLC products and defaulting to recommend a 5-week Autoship frequency.
You can use the "Contact" pet parent type to add neighbors, friends, family, social media followers, etc., or any pet parent you'd like to share TLC with. Contacts are independent and not associated with a litter. The contact type has space for the same information a New Pet Parent does except for Go Home Date. Contacts will remain on your Pet Manager dashboard for 30 days, after which they will "close". Once a contact has been 'Closed', you can view their details in the Pet Parent Performance report.