Search Pet Manager Resources
Pet Manager gives your expert recommendation an edge and helps you to manage your TLC business. Check out everything you need to get started and come back any time to find answers to your questions.
How are pet parents linked to my account using Pet Manager?
Visitors to your personalized web page on tlcpetfood.com will be connected to you as a referral if they create a new account. Pet parents will also have $5 automatically applied to their account when they schedule or place their first order. When you enter pet parents into Pet Manager, the system will check to see if they already have an account. If the system finds an account for your pet parent, they will be automatically linked to you as a referral (if they weren't already).
What are New Pet Parents and Contacts?
Using Pet Manager, you can share your recommendation to feed TLC with two types of pet parents:
New Pet Parents
Formerly known as "Owners" in Litter Manager, New Pet Parents will be or have recently brought home a new pet.
New Pet Parents will receive email communications that link to your personalized web page at tlcpetfood.com, configured to display the TLC product and Autoship frequency you recommend based on breed.
New Pet Parents are added to litters.
After creating a litter, find the litter you wish to add a Pet Parent to.
Select an open space and click "Add Pet Parent"
The Add Pet Parent button will indicate the number of spaces remaining in the litter.

Pet Name (optional) - used to identify the pet they are or have brought home
First and Last Name (required) - used to identify the TLC account once created
Email Address (required) - each New Pet Parent requires at least one email address in order for them to receive TLC communications directing them to your personalized web page and in order to match them to their TLC account
Secondary Email Address (optional) - can be used to include a possible secondary email address that might be used to create a TLC account. Only the first email address will receive TLC communications but the secondary email address will be used to match the New Pet Parent to a TLC account if the email address is used to create an account first.
Phone (optional)- phone number used to contact your pet parent
Go Home Date - the date the New Pet Parent is expected to bring home their new pet
Notes (optional) - any additional information you want to add about the pet parents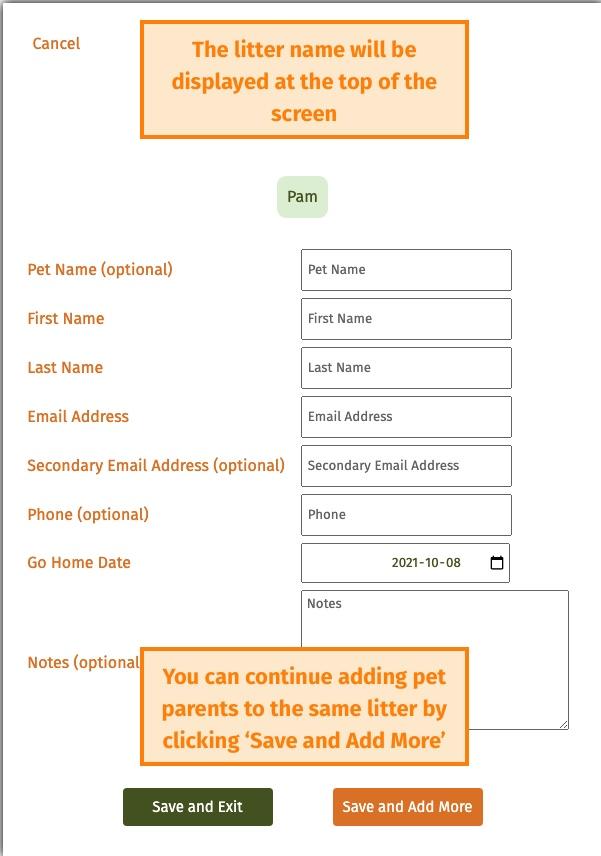 Contacts *NEW*
Contacts are any pet parent in your network. Contacts will receive email communications directing them to your personalized TLC web page displaying all TLC products and defaulting to recommend a 5-week Autoship frequency.
You can use the "Contact" pet parent type to add neighbors, friends, family, social media followers, etc., or any pet parent you'd like to share TLC with. Contacts are independent and not associated with a litter. The contact type has space for the same information a New Pet Parent does except for Go Home Date. Contacts will remain on your Pet Manager dashboard for 30 days, after which they will "close". Once a contact has been 'Closed', you can view their details in the Pet Parent Performance report.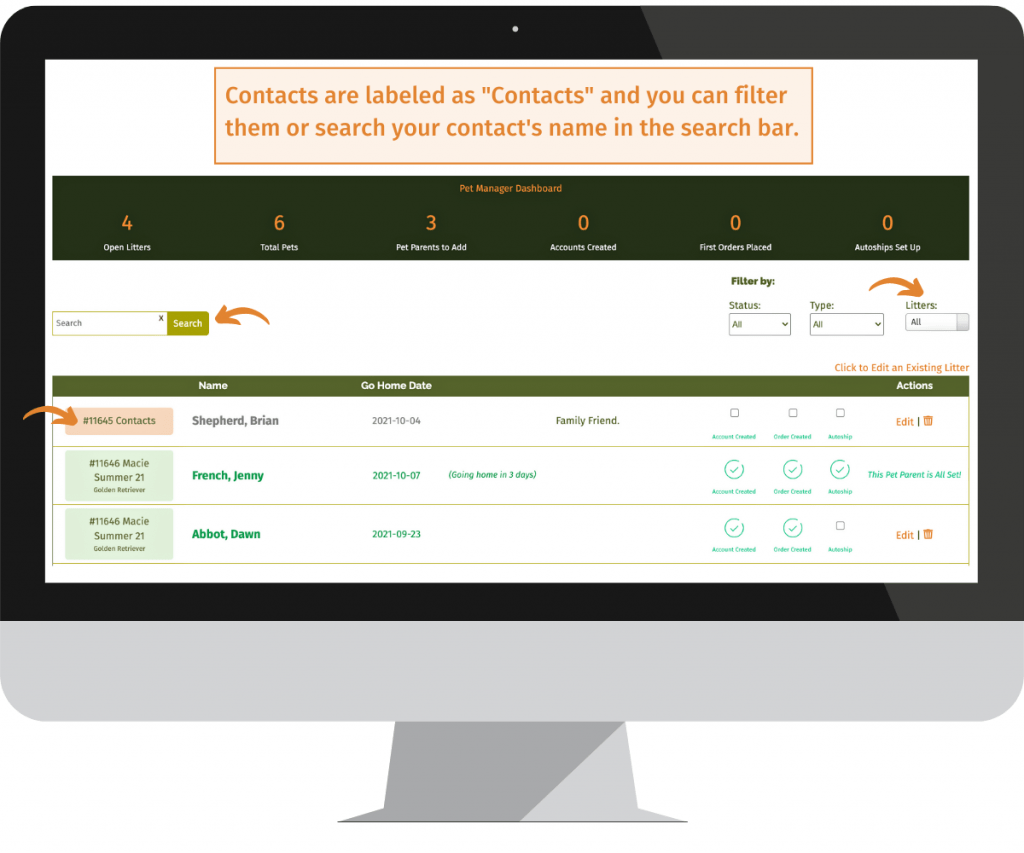 How do I remove a pet or pet parent?
Similar to Litter Manager, a litter will remain open until:
All pet parents have been assigned AND
30 days have passed after the last Go Home Date
Closing a litter with an unassigned pet
If you are no longer giving one of the pets from your litters away or there were extra spaces added to a litter in error, you can remove those spaces by clicking the 'x' next to the litter 'Add Pet Parent' button. If you remove all available spaces, the litter will close 30 days after the last Go Home Date. If that condition has already been met, the litter will close immediately.

Removing a pet parent
You can remove a pet parent from pet manager by clicking the trash can so long as all three goals have not been met. If all three goals have been met, the pet parent can no longer be removed. Removing a pet parent will remove them from the TLC subscription list and they will no longer receive Pet Manager related emails.

You will be prompted for a deletion reason which can then be retained for reporting purposes. You will see the number of 'Pets Removed' as the total number of spaces deleted combined with the difference between the number of pet parents and pets in each litter.
Helpful Articles About Using Pet Manager:

Track which referrals have ordered and set up Autoship
Read More »