You've shared your expert recommendation to feed TLC, explained the reasons and provided the information. But what happens after that? How can you see the results of all of your hard work? I've put together some helpful tips for where to look to check on your recommendations and how to know whether your pet parents are placing orders or better yet, using Autoship.
Take Advantage of Pet Manager
Use Pet Manager to track your recommendation to feed TLC. Contacts and New Pet Parents will be updated in Pet Manager when they have met any or all of the following goals:
Account Created: The pet parent has created a TLC account and is linked to you as a referral
Order Placed: The pet parent has placed their first order of TLC
Autoship: The pet parent has opted into Autoship
Your litters remain open until all pet parents have been added to a litter and for 30 days after the last pet parent has brought their pet home.
Your Pet Parents are considered 'All Set' when they've met all 3 goals. You can edit a pet parent's details up until that time.
Use Your Referral Report
You can find a complete list of your referrals under 'Loyalty Reporting'/ 'My Referrals'.  This report contains the customer name and email address, their state/province, indicates whether they are currently on Autoship, their total number of orders placed, date registered and the number of weeks since they last ordered.
Hint: If you are using Pet Manager and an owner has indicated they placed an order but your Pet Manager does not reflect that, confirm the name used to create the account, visit My Referrals and search for that name. If they are connected to your account as a referral, they will be listed including the email address used for their TLC account. If this is different from what was entered into Pet Manager, you can sync them up by adding the email address used for the account as a secondary email address on the owner. This will update your Pet Manager (please allow for up to 15 minutes to see the update reflected in Pet Manager). 
How to edit a pet parents email: 
Go to Pet Manager and find the pet parent that has ordered under a different email and select "Edit".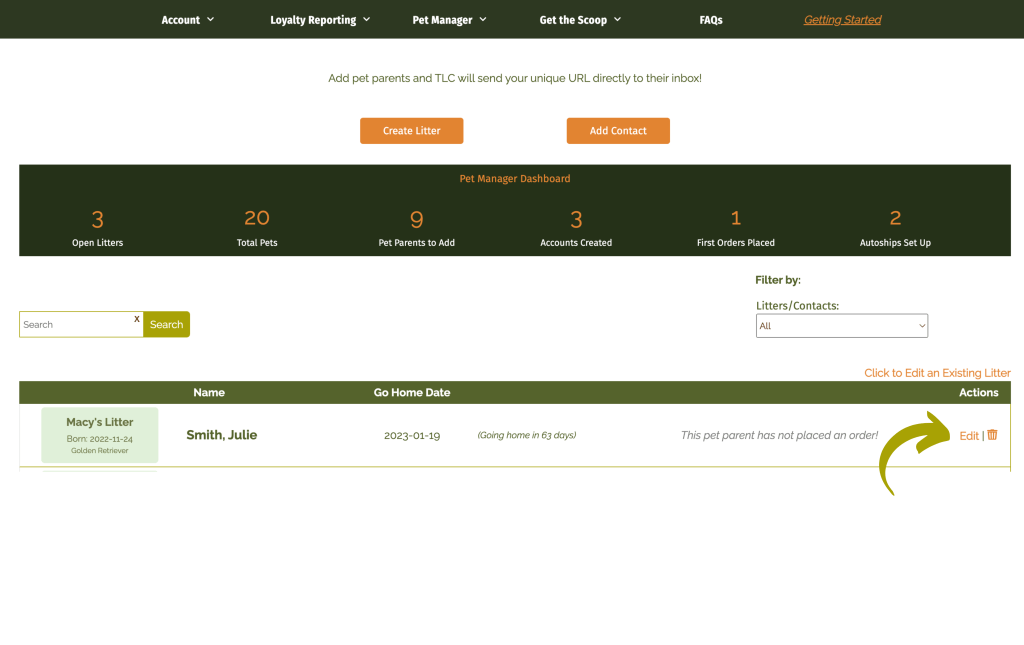 Now you can edit this pet parent's email so that it matches the email address they used to place their order. Once you make this update your Pet Manager will update to display that they have ordered. You can either edit the email address that is already there or add the other email address as a secondary email. Both options will correctly update this pet parent.